When does the price of salt automatically increase when using the State OGS bid?
The contract for salt using state bid has several limits which are very important to follow. The following table shows the important issues relative to the filed requirement amount for a given area/County.
| | |
| --- | --- |
| Purchase % vs. Contract Amount | Important Issue |
| 50% | Solar Salt minimum purchase amount requirement |
| 70% | Minimum purchase amount for rock salt |
| 120% | Price increase of 10% above standard rate |
| 130% | Price increase of 15% above standard rate* |
| Up to 150% | Suppliers must deliver salt against contract or face a "Buy Against" or a delivery price deduction |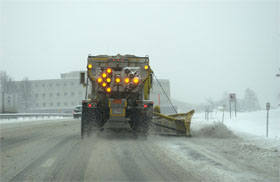 *Note: Salt suppliers may request additional increases if their cost exceed the 15% escalation. The supplier is required to provide documentation to substantiate the increase.
Also note that the salt price is subject to a fuel price adjustment. See Quick Answer on Fuel and Asphalt price adjustments.
Resources
OGS State Contract Notice for Road Salt
Thank you to Debbie Trulli-Cassale, NYS Association of Town Superintendents of Highways, for bringing this issue to our attention and sending us most of the details