How do I sign/stipe a parking space for persons with disabilities on the street?
First, any space for persons with disabilities must have the proper sign. A sign is always required in New York State and markings are just supplemental. Two other Quick Answers cover the requirements for the signage.
The markings for the space shall be white. The MUTCD Section 3B.19 does not allow "substituting" a blue line for the white line, the white line is always required but may have a blue line alongside it. The blue lines can only go within the space that is marked with white lines, thus the blue line is alongside the white and toward the inside of the space.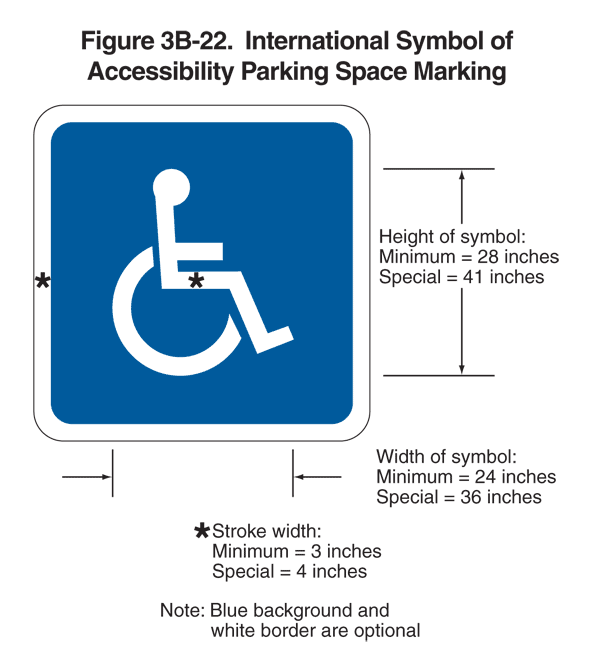 A blue square with the white International Symbol of Accessibility (MUTCD Figure 3B-22) can be painted in the space and must be between 24" wide x 28" high and 36" wide x 41" high. The "new" symbol of a "dynamic" figure in a wheelchair is not approved for use on signs or markings on public roads as both the FHWA and the Access Board still recognize the traditional symbol.
References
Section 3B.19.03 reads, "Option: Blue lines may supplement white parking space markings of each parking space designated for use only by persons with disabilities."
Manual on Uniform Traffic Control Devices (MUTCD)
Section 3A.05.05 reads "When used, blue markings shall supplement white markings for parking spaces for persons with disabilities."
Manual on Uniform Traffic Control Devices (MUTCD)
International Symbol of Accessibility-Standard Signs Handbook (p. 22)
Manual on Uniform Traffic Control Devices (MUTCD)
ADA Compliance Brief: Restriping Parking Spaces
US Department of Justice